E-MAIL
Filtering messages to folders in Microsoft Outlook Express
Outlook 2010 and newer:

In top of page, click 'Home' → 'Rules' → 'Manage Rules & Alerts'
Outlook 2007 and earlier:

In top of page, click 'Tools' → 'Rules and Alerts'.
Step 1: Choose model to filter messages with.
For example, if you want to filter messages from specific sender to certain folder, choose 'Move messages from someone to a folder'.
Step 2: Give specifications to your filter:
Click 'people or public group' and in the window opened, write into the 'From ->' -field, the address, from which you want to filter the messages.
Finally click 'OK' -button.
Click 'specified' and choose the folder you want the messages to be moved.
Finally click 'OK' -button.
In the next few screens you can specify more clauses and actions for those filtered messages.
Click 'Next' -button as many times as you can
Step 1: Name filter and Click 'Finish'.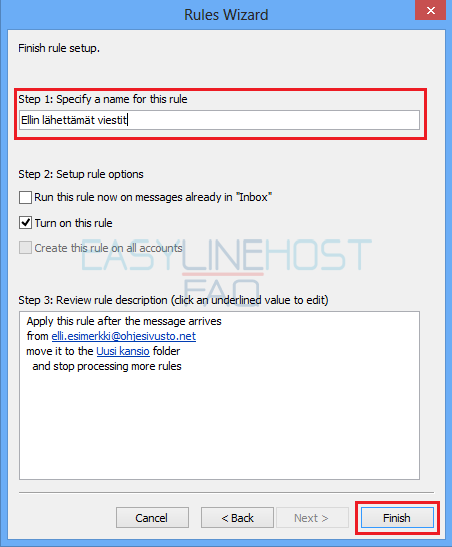 Finally click 'Apply' and 'OK' -buttons.